UK Today News: Naomi Campbell Testifies At The Hague Tribunal During Blood Diamonds War Trial

Supermodel Naomi Campbell was reportedly accused of lying in court yesterday after she denied receiving uncut diamonds as a gift from a ex-Liberian leader Charles Taylor. She eventually testified during the blood diamonds trail at The Hague.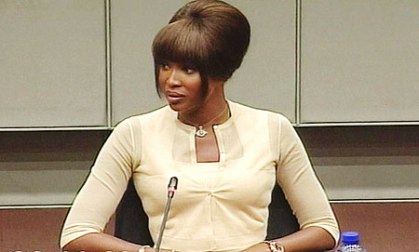 Naomi Campbell testifying at the Hague. (Pic: Mirror)
Campbell, 40, testified at a war crimes tribunal saying: "They were dirty-looking pebbles. I'm used to seeing diamonds shiny and in a box. If someone had not said they were diamonds, I would not have known they were diamonds."
Campbell confessed that the diamonds were given to her by two men in the middle of the night, after a charity function at Nelson Mandela's South African mansion back in 1997.
Though Campbell initially denied receiving blood diamonds, it was only after she was threatened with a jail sentence that she agreed to appear before The Hague tribunal and testify about the suspected 'blood diamond' gift from Charles Taylor..
She added: "I'm just like wanting to get this over with and get on with my life. This is a big inconvenience for me."
The accused, Charles Taylor is currently charged with war crimes as a result of his alleged role in the conflict in Sierra Leone, in addition to his role in selling blood diamonds to increase money for weapons.