UK Today News: Typhoon Megi Kills 10 In Philippines – Path Moves Toward China, Hong Kong

The super typhoon Megi killed aka Juan, has reportedly killed ten people in the northern region of Philippines on Monday, October 18, 2010. The authorities in Phillipines claimed that the casualties might be higher since the extent of damage is not known yet. Besides this, officials state that there is no source of communication in the region after the typhoon.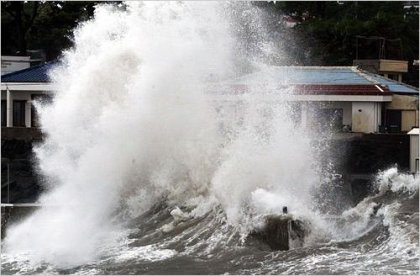 Officials have stated that the path of typhoon Megi is moving towards the southern coast of China and Hong Kong. According to the weather forecast, heavy climatic conditions are predicted this coming Friday- Saturday.
Last weekend, 100,000 people of Hainan Island in southern China had to move away from their homes due to incessant rains. Over the past four years, Megi is considered to be the strongest typhoon in the Philippines.
Other natural calamities that took place recently were the flash floods that hit the northern region of Thailand in Nakhon Ratchasima. In Vietnam, floods are reported to have killed 31 people.